Barotz Dental
303 16th Street Mall
Suite 250
Denver, Colorado 80202
Phone: (720) 573-1500
Fax: 303-595-0583
Email: barotzdental@barotzdental.com

Office Hours
Monday through Friday: 8:00 a.m. - 5:00 p.m.
Our office is closed on the following holidays:
New Year's Day
Memorial Day
4th of July
Labor Day
Thanksgiving
Day after Thanksgiving
Christmas
Complimentary Valet Parking
Directions from I-25 to Valet Parking
Take Colfax exit east toward the city. Turn left on Glenarm Place. Go straight on Glenarm for five blocks and turn right on Broadway. Stay in the right lane and take the next right turn onto Tremont Street. The garage is located under the walkway, 50 feet ahead on your right, in the middle of the block. Just under the walkway turn right into the driveway for valet service at the Holiday Inn Express • 401 17th Street • Denver, CO.
If for any reason you see a sign that says "PARKING LOT FULL," please pull in as we have spots reserved for our patients.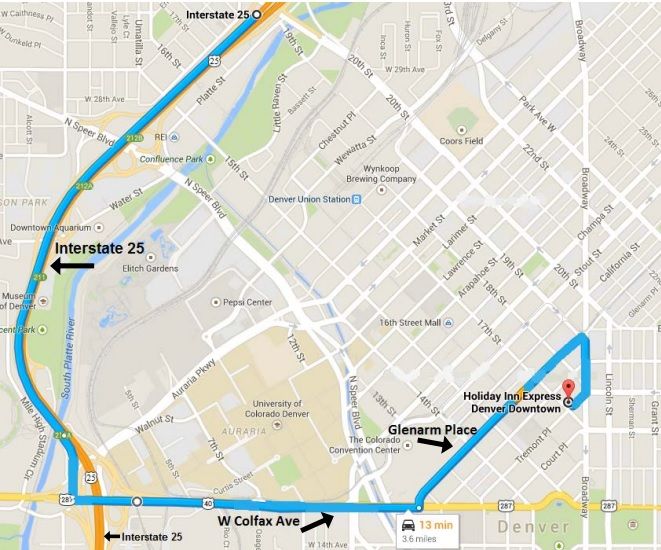 Complimentary Valet Parking
​​​​​
From Valet Parking to Barotz Dental
Exit valet parking and turn right. Walk one short block to the 16th Street Mall and turn left. Walk half a block toward Court Street. When you reach Noodles & Co., look to the left of the entrance to find the elevators at 303 16th Street. Take the elevator to the second floor. Barotz Dental is on the left, Suite 250.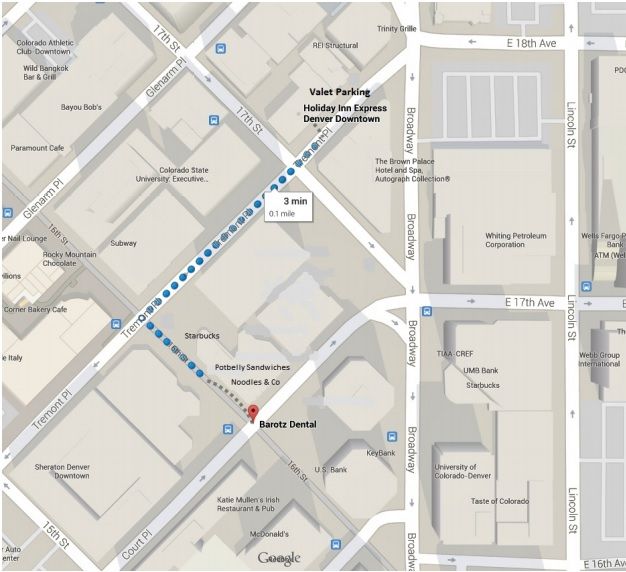 Walking Directions to Barotz Dental​​​​​​​
303 16th Street Mall • Suite 250 • Denver, CO 80202 • (303)595-4994
​​​​​​​