What Sets Our Denver, Colorado Dental Practice Apart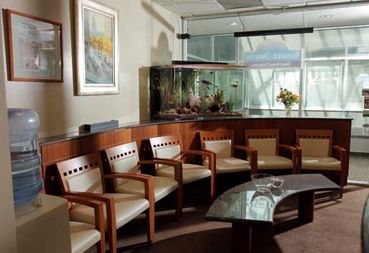 We are big believers in what we call the Barotz Dental Difference. With such comprehensive dental knowledge, our doctors are prepared to solve the most complex dental problems all under one roof. We save you time and money by delivering all of your care in one convenient location, without referring you out all over town.
Furthermore, we believe that a dentist is expected to provide you with amenities to help you feel comfortable and relaxed. That's why we have designed our office as a dental spa.
"We give our patients a true dental spa experience, with luxuries ranging from fresh baked cookies to warm neck pillows during your treatment and facial towels after your treatment. We've taken the old clichés out of dentistry," says Dr. Barotz, who even personally provides head and jaw massage during long appointments. "Many of my patients say they'd rather stay here than go back to work."
We strive to provide you, our patients, with unparalleled comfort. That's why Barotz Dental offers our patients numerous amenities including:
Comfort in our Reception Area
Complimentary valet parking for our patients at the Holiday Inn Express

Expect a unique and pleasant experience from the moment that you arrive in our office. In our comfortable and relaxing patient lounge, you will find:

Complimentary refreshment bar with juice, purified spring water, Starbucks coffee, and hot tea
Complimentary fresh baked cookies
Interesting and engaging reading materials in the reception area, including current magazines and newspapers
A wardrobe closet to safely store your coat and valuables
Comfort in our Treatment Rooms
We'll make sure you are relaxed and comfortable during your treatment. Just as our patient lounge is specifically designed for your comfort, our treatment rooms will help you to feel very comfortable and relaxed. Special amenities include:
Aromatherapy eye pillows to relax and sooth tired eyes
Warm aromatherapy neck pillows helps to ease tension
Soft blankets for warmth and security
iPads with WiFi
Pandora Internet Radio
Headphones to use while listening to music
Netflix
Hot towels to freshen up with after treatment
Homemade lip balm to keep lips moist
Jaw rests to keep your jaw from getting tired
Safety sunglasses to protect your eyes during treatment