Laser Gum Treatment in Denver, Colorado
Dr. Charles Barotz
has been a pioneer in enhancing smiles with artistic dentistry since 1980. A graduate of Georgetown University School of Dentistry, he has dedicated his life to provide you with the best that dentistry has to offer.
Cutting edge technology
Efficient, comfortable procedures
Transform your smile under one roof without being referred all around town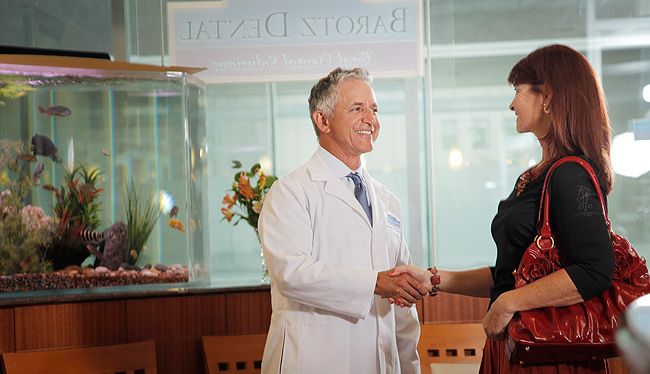 Dr. Charles Barotz treats even advanced cases of gum disease without surgery and minimal pain.
Gum disease is the #1 cause of tooth loss in adults, yet many people avoid treatment for gum disease because they are fearful that the traditionally recommended treatments would be painful and invasive. For mild cases of gum disease, Denver dentist Dr. Charles Barotz offers gentle cleaning and scaling to remove the bacteria causing the disease. Advanced cases are treated using LANAP laser gum therapy. Dr. Barotz was the first dentist in the city of Denver to be fully certified to offer comfortable LANAP laser treatment instead of conventional cut-and-stitch surgery.
For mild to intermediate cases of gum disease, Dr. Barotz recommends conventional treatment methods, including cleaning & scaling, and treatment with dental antibiotics. Unlike most dentists, however, Dr. Barotz is also equipped to handle severe cases of gum disease without resorting to painful gum surgery.
Laser treatment for Severe Gum Disease
Dr. Barotz's state-of-the-art LANAP™ (Laser Assisted New Attachment Procedure) treatment provides rapid, safe and nearly pain free gum treatment. Using LANAP, Dr. Barotz can treat his patients and even regrow lost bone without the swelling, cutting & stitching of conventional gum surgery. Click here to read more about laser treatment.
Benefits of LANAP vs. traditional gum surgery
A less traumatic yet highly effective alternative to cut & stitch gum surgery that acutally helps to regenerate bone.
No cutting of the gum tissue with a scalpel and no stitches means a quick recovery with minimal bleeding and pain.
Preserves gum tissue instead of cutting it away.
Reduces root exposure and sensitivity.
Reduces infection.
Get a Complimentary Consultation
In a Complimentary Consultation, Dr. Barotz will show you the possible options available to improve your smile. If you are concerned about gum disease, please come in and let Dr. Barotz evaluate your situation. Here's what you can expect when you visit Barotz Dental for your complimentary consultation:
Smile evaluation;

Dr. Barotz will listen to your needs;

Fully explain your options;

Review possible procedures.
To schedule your Complimentary Consultation, please call us at 720-573-1500.
What is Gum Disease?
Periodontal disease is an infection of the gum and bone which support the teeth. Left untreated, it can cause the bone to dissolve, which leads to loose teeth and ultimately the loss of teeth. Periodontal disease is the number one cause for adult tooth loss; over 75 million Americans over the age of 35 suffer from gum disease. Gum disease is more common than heart disease, stroke, cancer and Alzheimer's combined and has been proven to increase the risk for developing many other diseases.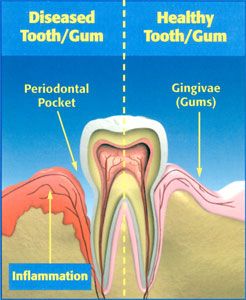 Heart Disease can be increased by 150%

Chances of stroke can increase by 300%

The risk of having a premature birth or delivering a low birth weight baby can be increased by 700%

The increased risk of respiratory infection can be increased by 500%
Gum disease occurs because bacteria accumulate on the teeth and forms dental plaque. If the plaque is not removed thoroughly, it will attach to the root surface inside the gum and produce a pocket, causing constant irritation to the adjacent gum. The gum becomes swollen, will appear slightly to moderately red, and can result in frequent bleeding. When the gums reach this stage, it is called gingivitis.
If gingivitis is not controlled, the bone will begin to dissolve in order to avoid bactteria. Once the bone begins to dissolve, we call this state of gum disease periodontitis. Eventually, the teeth become loose and may abscess or be lost.
Laser Gum Treatment
LANAP™ (Laser Assisted New Attachment Procedure) is an advanced technique used by Dr. Barotz to treat gum disease and save teeth that were previously considered hopeless. A laser light is used to gently remove harmful bacteria and diseased tissue from the gum pocket. The body then heals naturally so that the gum pockets improve and the teeth become more stable.
​​​​​​​
The Millennium laser is a state-of-the-art tool that has saved thousands of teeth and helped countless patients bring themselves back to a more healthy state.
Only 1% of U.S. dentists, including Dr. Barotz, are certified to perform Laser Gum Therapy for treating gum disease. LANAP is the only laser gum treatment protocol that is patented and FDA approved for new attachment of gum and bone tissue around teeth.
Most laser systems have not undergone clinical studies evaluating their performance. LANAP is the only laser system that has treatment results confirmed and verified by clinical and laboratory studies.
Perhaps most importantly, LANAP Laser Therapy is less painful and heals faster than traditional gum surgery, and yields miraculous results in many cases.
To schedule an appointment, please call us at 720-573-1500 or
click here
to request an appointment online.