Dr. Charles Barotz
has been helping patients save teeth and achieve dental peace of mind with Total Dental Solutions since 1980. A graduate of Georgetown University School of Dentistry, he has dedicated his life to provide you with the best that dentistry has to offer.
Fantastic, rejuvenating preventive dentistry
Check-ups, cleanings, & beyond
Transform your smile under one roof without being referred all around town
Because we offer Total Dental Solutions, you can achieve the results you want in a fraction of the time
"Complex dental problems solved quicker."—Dr. Charles Barotz
​​​​​​​Check-Ups & Cleanings
When you make your first visit, Dr. Barotz will conduct a comprehensive exam including digital x-rays and a full oral exam using the Diagnodent cavity detection laser, a complete periodontal exam (evaluating the state of your gums and any changes to your tooth structure), a bite evaluation, a cancer screening using ViziLite, and a cosmetic evaluation, if requested.
Dr. Barotz can provide a second opinion if you have received a diagnosis or treatment from another dentist. With extensive expertise in cosmetic dentistry, denture technology anddental implants, Dr. Barotz is qualified to treat the most complex dental cases.
Dr. Barotz will also complete an occlusal (bite) analysis and TMJ & migraine evaluation, and recommend treatment when appropriate. TMJ is an acute or chronic inflammation of the temporomandibular joint, which connects the mandible to the skull, resulting in significant pain and impairment.
This thorough check up enables Dr. Barotz to recommend a comprehensive treatment that addresses your unique needs, providing you with a plan for a lifetime of dental health.
Periodontal Therapy
Gum disease is the #1 cause of tooth loss in adults, yet many are hesitant to proceed with treatment for gum disease because they are fearful of the pain that is typically involved. For mild or intermediate cases of gum disease, Dr. Barotz recommends conventional treatment methods, including cleaning and scaling, and treatment with dental antibiotics. Unlike most dentists, however, Dr. Barotz is also equipped to treat severe cases of gum disease without resorting to painful gum surgery. At Barotz Dental, advanced cases of periodontitis (gum disease) are treated with the revolutionary LANAP laser gum therapy. Dr. Barotz was the first dentist in Denver, Colorado to be fully certified to perform comfortable LANAP laser treatment instead of conventional cut-and-stitch surgery.
Laser Gum Treatment
LANAP™ (Laser Assisted New Attachment Procedure) is an advanced technique used by Dr. Barotz to treat gum disease and save teeth that were previously considered hopeless. A highly advanced laser light is used to gently remove harmful bacteria and diseased tissue from the gum pocket. This allows the body to heal naturally and actually regenerate lost bone so that the gum pockets improve and the teeth become more stable.
LANAP laser therapy has proven a revolutionary gum disease treatment because it has helped save teeth that would have been hopeless if treated with traditional cut & stitch surgery. Since 2007, LANAP therapy has helped us save countless teeth for dozens of patients searching for a reasonable solution to gum disease.
Only 1% of U.S. dentists, including Dr. Barotz, are certified to perform this Laser Gum Therapy. LANAP is the only laser gum treatment procedure that is patented and FDA approved for new attachment of gum and bone tissue around teeth.
While many laser systems have not undergone clinical studies evaluating their performance, LANAP is the only system that has treatment results confirmed and verified by clinical and laboratory studies.
In short, LANAP has proven a superior treatment to traditional cut and stitch gum surgery because it is more effective, far less painful and involves a drastically reduced recovery period.


Benefits of LANAP vs. traditional gum surgery:
Promotes bone regeneration
Way less painful yet highly effective alternative to cut & stitch gum surgery
No cutting of the gums with a scalpel and no stitches results in quick recovery with minimal bleeding and pain
Preserves gum tissue rather than cutting it away
Reduces root exposure and sensitivity
Reduces infection
Pinhole Technique
The Pinhole Surgical Technique is a revolutionary approach to treating gum disease. At Barotz Dental, we use this method as an alternative to traditional gum grafting. It is a procedure that does not use scalpels and sutures, leading to better patient comfort with exceptional results. Through a small hole made in the gums, Dr. Barotz uses special tools to gently loosen the gum tissue and glide it over the receded part of the tooth. Patients love the cosmetic improvement that they experience along with the dynamic and relatively pain-free results that they experience.
Snoring Solution
Besides making life more unpleasant for significant others, simple snoring presents a significant health risk. A recent study by Harvard University and Boston's Brigham and Woman's Hospital found that simple snoring increases the chance of cardiovascular disease in women by 33%. Previous studies of men who snore also revealed serious health consequences related to snoring. What's more, due to the reality that snorers do not get proper sleep, falling asleep at the wheel is more likely, subjecting everyone to the most dangerous of traffic accidents.
Other health problems related to snoring include:
Sleep Apnea
Hypertension
High Blood Pressure
Heart Problems
Stroke
"No Snore Zone"
"No Snore Zone"
To successfully treat snoring, Dr. Barotz uses the TheraSnore, a small device, similar to a mouthguard, which is worn at night. The TheraSnore device adjusts your jaw position, keeping airways open while you sleep and allowing you to breathe sufficiently during the night. The vast majority of people who have tried TheraSnore have found it a painless and comfortable way to prevent snoring.
Dr. Barotz can fit your TheraSnore in 20 minutes or less and because they're adjustable by precise 1.5 millimeter increments, you'll get exactly the right fit for you. TheraSnore causes no permanent changes to your body, and most people adapt to wearing the appliance all night within a week. By the end of the week, you'll be sleeping comfortably and soundlessly, and so will your partner.
Frenectomy Services in Denver, Colorado
What is a Frenectomy?
A frenectomy is a dental procedure in which the presence of the frenum is removed from the mouth.


What is a "frenum?"
A frenum is a muscular attachment between two tissues found inside of the cheeks and lips and inside the mouth and gums. There are two kinds of frenum in the mouth, the labial frenum and the lingual frenum.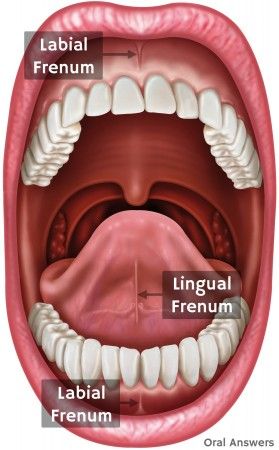 When is a Frenectomy Necessary?
Frenectomy procedures are most often an essential dental treatment rather than voluntary. A frenectomy can be recommended when the frenum is causing pain, impeding functionality of the mouth or causing other dental problems. Below are some of the benefits associated with frenectomy procedures.
Can eliminate a source of gum recession
Can reduce discomfort in the mouth
Can improve appearance by eliminating gap between the two front teeth
Can boost self-confidence
Can improve chewing function
Can stabilize dentures (for denture wearers)
Can improve speech
Can boost appetite through improved chewing function
Why Have Your Frenectomy at Barotz Dental?
At Barotz Dental in downtown Denver, we are able to perform frenectomies quickly and with minimal pain because we use a PerioLase to accomplish this treatment. The PerioLase enables us to remove the presence of the frenum in the least invasive nature possible, reducing the pain and bleeding following the procedure and the length of your recovery.
We also understand that frenectomy procedures sometimes need to be completed in a time sensitive manner. At Barotz Dental, we always make every possible effort to accommodate your schedule and expedite any treatment that is considered time sensitive.
Lastly, because Barotz Dental offers Total Dental Solutions all in one location, we can accommodate any other treatment that your regular dentist may not be able to. It is our goal to provide you with the services and care you desire in the quickest and most pleasant manner possible.
If you have been told you that need a frenectomy, call us today and arrange a complimentary consultation with Dr. Barotz.