Do you love your smile? If you've got chips, cracks, stains, gaps, or other imperfections in the front teeth, the answer is probably no. If this is the case, then you are definitely in the right place!
Dr. Charles Barotz
has been transforming smiles with custom made porcelain veneers here in Denver, Colorado for decades.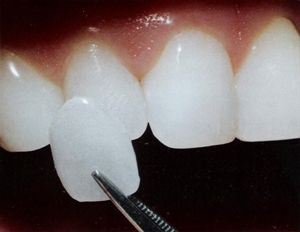 What Are Porcelain Veneers?
Porcelain veneers are thin coverings affixed to the surface of the teeth that show when you smile. They are made up of multiple sheets of dental porcelain, a material that looks, acts, and feels just like your natural teeth. Porcelain does not stain or become discolored at the same rate as tooth enamel, though, so your veneers stay the same beautiful shade of white for years after they are applied.
Veneers can correct a number of dental imperfections. In fact, practically any cosmetic issue can be hidden with the coverings. Some of the most common include…
⦁ Chipped, cracked, or broken teeth
⦁ Discolored or stained teeth that have not responded to teeth whitening
⦁ Slightly gapped or misaligned teeth
⦁ Misshapen teeth, like those that appear too short or pointed

Problems affecting the appearance and functionality of your smile, like decayed or severely worn teeth, may be better corrected by a dental crown. During a complimentary consultation, Dr. Barotz can talk to you about the difference between porcelain veneers and dental crowns and help you determine which is most appropriate for you.

In some cases, veneers can eliminate the need for orthodontics -- especially when there are slight gaps between the front teeth. However, teeth that are severely misaligned or that have problems affecting the bite should still be corrected with SuperFast Invisalign.
Procedure for Porcelain Veneers
Porcelain veneers usually require just two visits to our downtown office. At the first appointment, a custom treatment plan is designed and your teeth are prepared for the permanent veneers. Tooth preparation involves removing a slight layer of enamel to make room for each veneer. Temporary veneers are worn to cover the prepared teeth between appointments. During that two week period, the veneers are carefully fabricated and then shipped back to our office. At the second appointment, Dr. Barotz will double check their fit and give you a preview of your new smile. The veneers are permanently applied once you give final approval.
Numerous Benefits of Porcelain Veneers
The advantages of porcelain veneers are many. Patients with a variety of dental imperfections that would require multiple procedures to correct benefit the most from veneers. Additional benefits of veneers include…
⦁ Minimally invasive procedure is often completed in just two visits
⦁ Porcelain veneers do not stain like natural teeth
⦁ When cared for properly, dental veneers can last for many years
⦁ A life-changing smile you can't wait to show off


Porcelain Veneers from Dr. Barotz
Dr. Barotz is a true "veneer pioneer" here in Denver. He became the first dentist in the state of Colorado to transform patients' smiles with porcelain veneers almost three decades ago. Since then, he has helped thousands to transform their smile with porcelain veneers. Contact our office to request your complimentary cosmetic consultation today.