Treat Peri-Implanitis with LAPIP
Skilled Care from a Master of Implant Dentistry in Denver, Colorado
Dental implants are the only tooth replacement that can most closely imitate the functional and health benefits afforded by natural teeth. Unfortunately, if they are not placed or restored correctly, or the patient fails to properly care for them, the risk for dental implant complications increases. Dr. Charles Barotz has spent nearly three decades mastering all aspects of implant dentistry, including treating patients who come to our office with varying levels of dental implant complications, like peri-implantitis. Dr. Barotz's thorough understanding and in-depth knowledge of dental implants and soft and hard tissue set him apart as an expert in treating dental implant complications. We couple our expertise with advanced dental techniques like the minimally-invasive LAPIP™ protocol, which uses the modern laser technology to eradicate infection around a dental implant.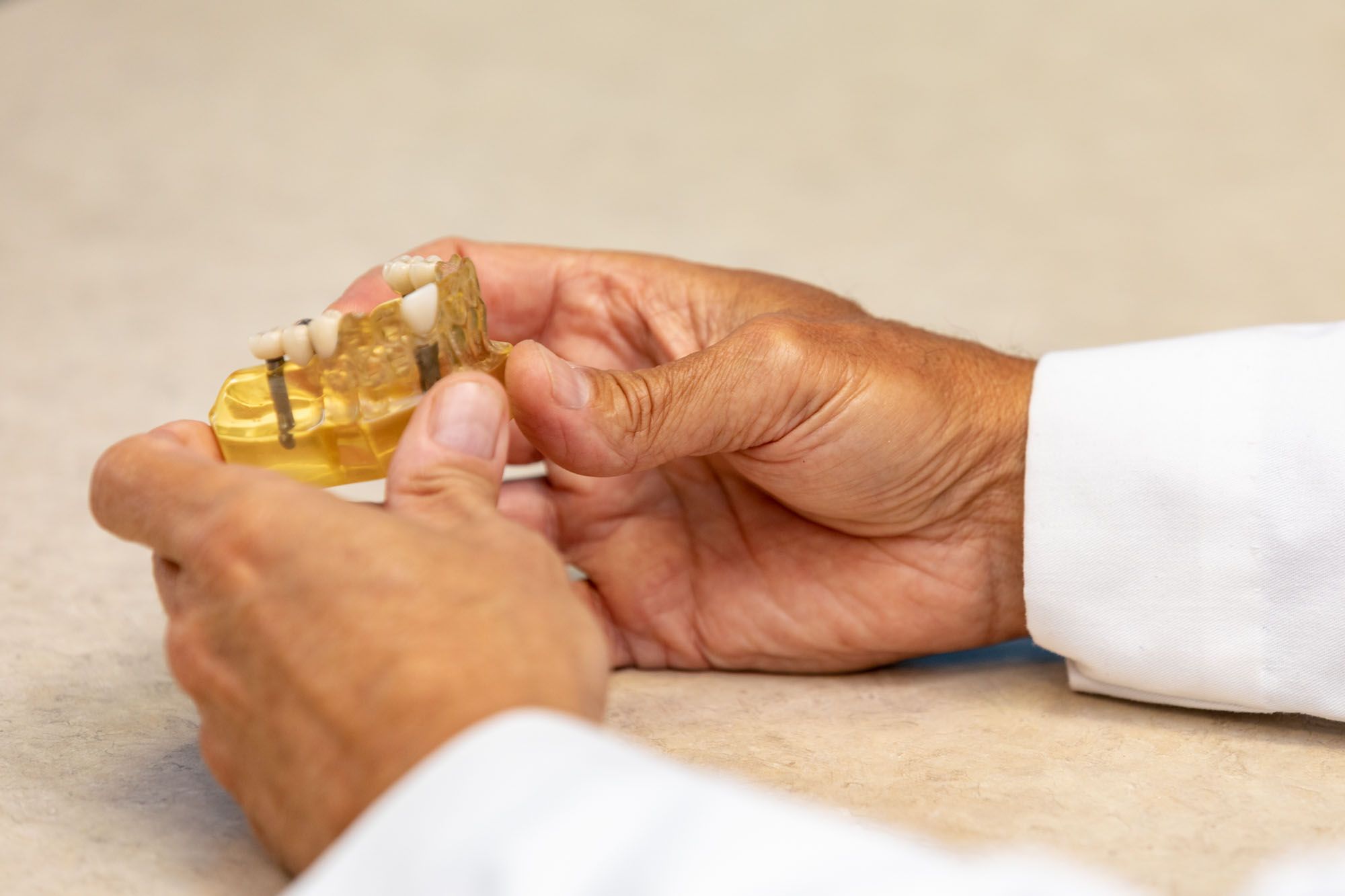 Dental Implant FAQs in Denver, Colorado
Symptoms and Causes of Dental Implant Complications
Many factors must be considered during treatment planning in order for dental implant surgery to achieve long-term functional and aesthetic success. Placement at an improper angle in the jaw or incorrectly positioned in relation to other teeth results in a greater chance of dental implant complications. Improper home-care can also cause peri-implantitis, an infection similar to gum disease. Peri-implantitis can cause tissue and bone loss. The symptoms of dental implant complication can include pain, numbness or tingling, swelling, or signs of infection.
Seek the Expertise of a Highly Qualified Dentist
If you have had dental implants placed by another dentist and you begin noticing signs of gum recession, inflammation, or a visible implant post or a loosening dental implant, seek the expertise of a qualified and highly experienced implant dentist like Dr. Barotz. Early detection and diagnosis of infection is imperative to saving your dental implants and restoring your oral health. Our high-tech office is equipped with cutting-edge technology that aids in providing faster, safer, and more convenient care for our patients. You can rest assured that Dr. Barotz will listen to your concerns and provide treatment that effectively halts the spread of infection and reestablishes the health of your smile.
Causes of dental implant complications include:
Incorrect implant position

Nerve or sinus damage

Lack of proper bone support

Improper oral hygiene

Inflammation of the gums

Poorly fitting crowns