Dr. Barotz On the Dental Implant Process
Experience in Dental Implants Matters
Not all dentists are qualified to place dental implants; in fact, even dentists who claim expertise in implant dentistry do not have the adequate education critical for attaining excellent surgical outcomes and long-term implant success. Dr. Charles Barotz is extensively trained and experienced in all aspects of dental implants, from placement to restoration, a level of expertise he has achieved through countless hours of hands-on training and decades of real-world experience. Electing to receive dental implants is still a major decision, however, and the reason we provide education for our patients. We are here to inform you of the most common questions asked about dental implants, though this is by no means an exhaustive list. We encourage you to schedule a consultation at our office to speak with Dr. Barotz directly about the long-term benefits of dental implants.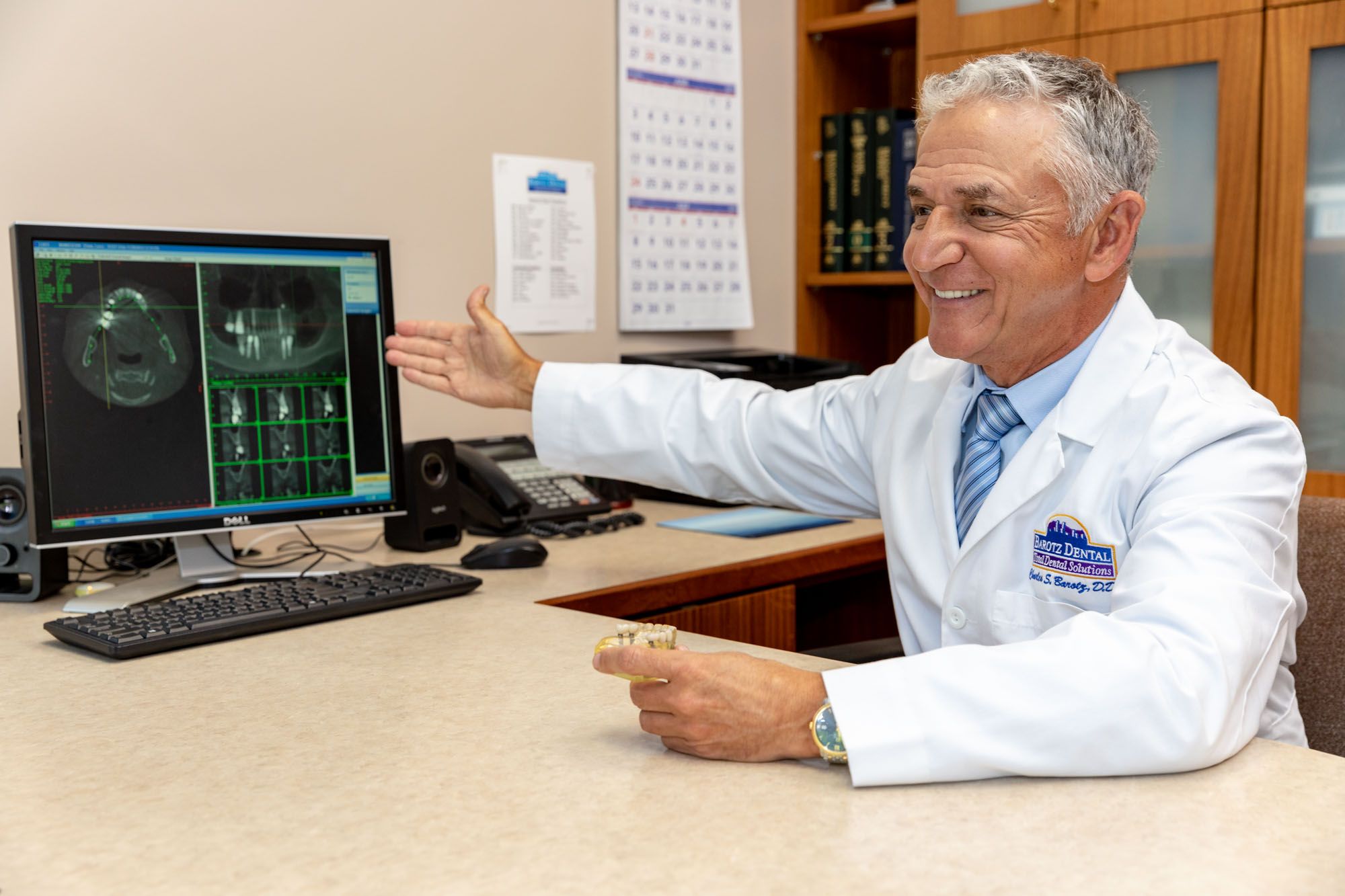 Dental Implant FAQs in Denver, Colorado
Why are dental implants considered the "gold standard" in tooth replacement?
Dental implants are the only restoration option that can permanently replace one or more missing teeth, and do so in a way that mimics virtually 100 percent of the function and aesthetics of healthy and natural teeth. Surgically placed into the jaw, dental implants fuse securely to the bone, retaining a level of strength and stability unrivaled with that of any other restorative solution in dentistry today.
What if I have been told I do not have enough bone for dental implants?
You should always seek a second opinion if presented with this diagnosis. While tooth loss leads to a rapid decline in the height and width of the bone, which could eventually become too weak to support dental implants, many patients have been told they're not candidates for dental implants when they actually are! Bone grafting rebuilds structure and density to the bone, reestablishing the necessary foundation stabilizing any number of dental implants.
What is the dental implant process?
Dental implant treatment begins with a thorough evaluation of the structures of the mouth, including the teeth and bone. We use a 3D cone beam imaging system that takes highly accurate digital images used to determine the best angle and depth at which to place the dental implants, virtually removing all room for error during surgery. During the procedure, we place dental implants into your jaw, where they will begin to naturally fuse and integrate with the bone. Dr. Barotz has placed thousands of dental implants throughout his career, and has decades of specialized experience in restoring dental implants for the greatest functional and aesthetic results.
Will I be asleep during dental implant surgery?
Surgical placement of dental implants is commonly performed just with the use of local anesthesia, though additional sedation options are available depending on the needs of each patient. Our no-fear sleep dentistry options, including nitrous oxide, oral sedation, and IV conscious sedation, help patients with mild to severe dental anxiety relax during the procedure.
How many teeth can dental implants replace?
Dental implants are ideal for replacing one or more teeth, and can even successfully restore a full arch of missing teeth. Depending on the location, type, and extent of tooth loss, between two and eight dental implants can be placed to stabilize an implant supported dental bridge or denture, or to support a full arch prosthesis.
How much do dental implants cost?
Dental implant cost is determined by a variety of factors, including procedures that may need to be completed beforehand, such as bone grafting or tooth extractions. Our dental implants treatment is also customized for each patient depending on how many teeth need to be replaced, which can cause variation in the price as well.
How do I take care of my dental implants?
You can care for dental implants just like your normal teeth. Even though they are artificial, they still need to be properly brushed and flossed. Maintain a routine of brushing twice a day, flossing once a day, and visiting your dentist twice yearly to ensure your existing teeth and dental implants remain healthy and clean.
Am I candidate for dental implants?
Most patients who are in good oral and overall health are candidates for dental implants. For those with underlying conditions, such as gum disease or bone loss, we can provide treatment before placing dental implants. If you have been told by another dentist that you are not a candidate, please contact our office for a consultation with Dr. Barotz.
Why should I choose you to place and restore my dental implants?
Dr. Barotz has been placing dental implants since 1990 and has helped thousands of patients restore the function, health, and beauty of their smiles. Considered a leader in his field, Dr. Barotz is a best-selling author, international speaker, and lecturer on many subjects related to dental implants. He is a member of the Academy of Osseointegration and American Dental Association and has been in practice for nearly four decades, during which time he has devoted to gaining knowledge and experience in the most advanced technology, techniques, and protocols in dentistry.